Regular price
Sale price
$41.99 USD
Unit price
per
Sale
Sold out
Organic B Vitamins | Organic Algae for Skin | 1 Billion Probiotics
Beyoutiful is a vegan beauty vitamin blend of organic B vitamins, organic seaweed and algae extracts (fucoidan and astaxanthin) and 1 billion probiotics, combined to help support healthy glowing skin, hair, and nails at any age.
B vitamins are notoriously difficult to get on a plant-based diet so that inspired us to put together this superstar lineup of organic ingredients here to help protect against skin pigmentation, the appearance of wrinkles and keep your epidermis epically hydrated! Your hair, skin, and nail vitamins just got taken to the next (plant-based) level.
Share
View full details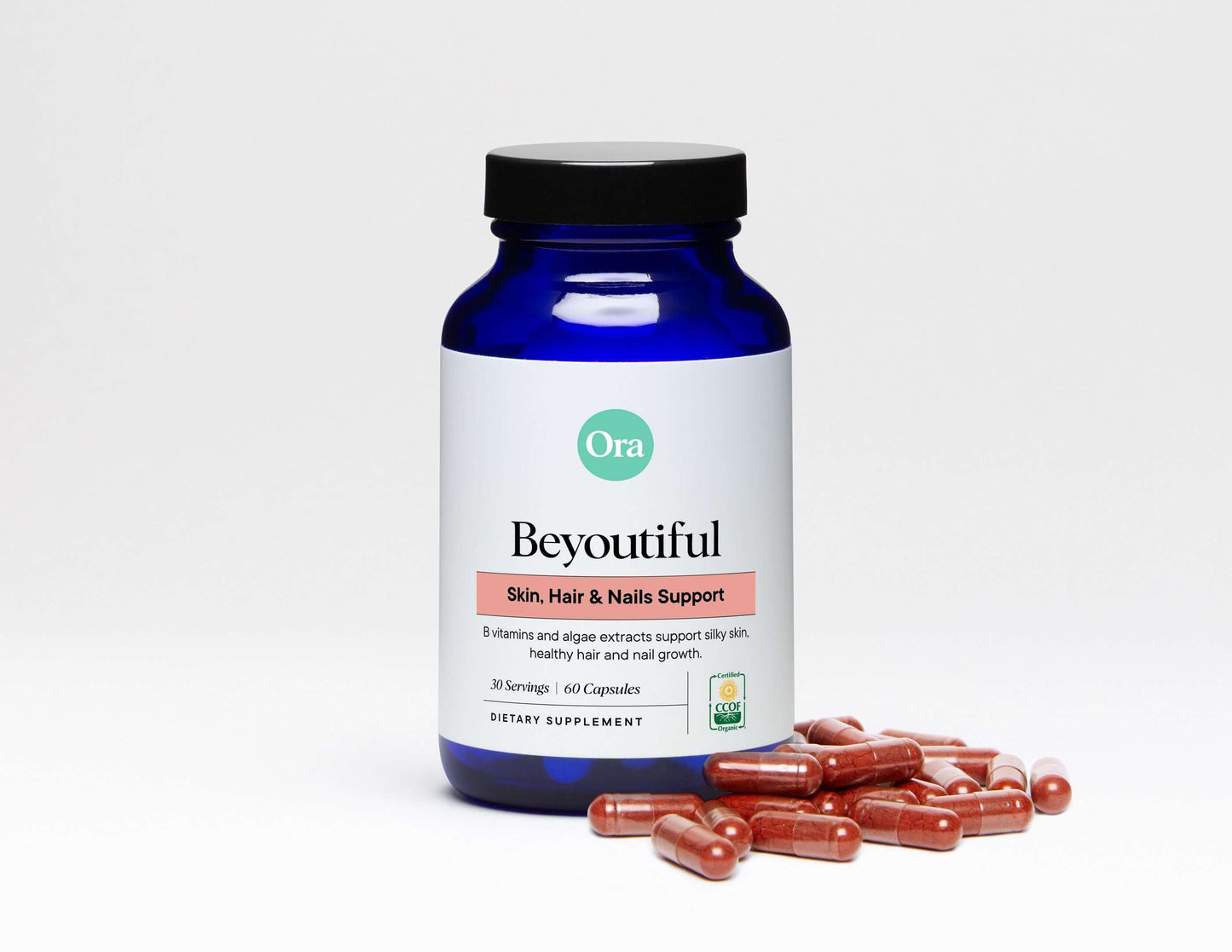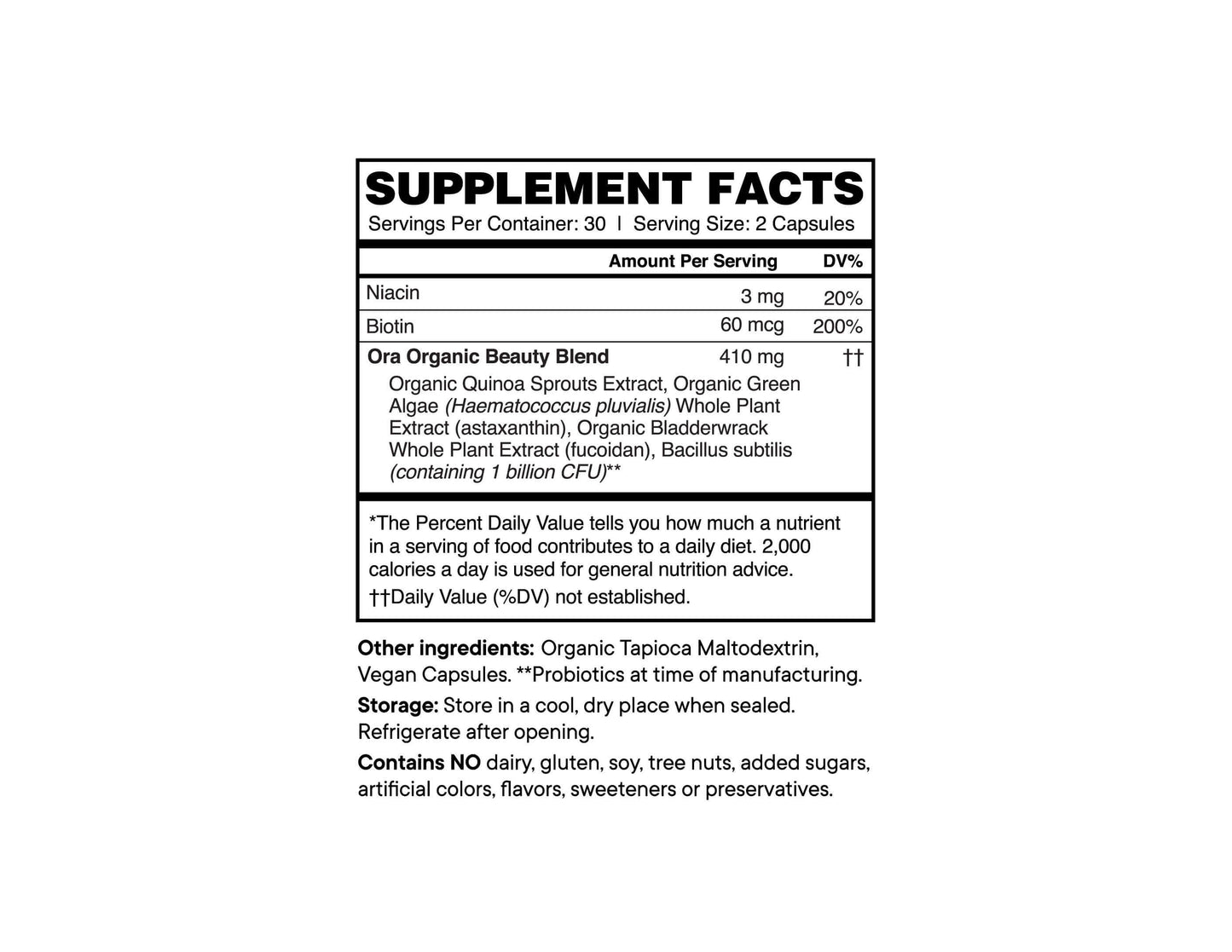 AMAZING!!!!
This supplement is incredible! Within the first week of using this product I've noticed my nails stronger & longer, less hair fall out & clearer skin. Definitely will be a staple for my supplements!
Pretty Good
It's really hard to tell if the product is "working" or actually put into good use if you don't use it for a while or actually do tests to see if anything is improving. I feel the same but I still take it in hopes I grow healthier and stronger nails and hair.
Hair, skin and nails
I decided to switch over to Ora because my hair was just falling out a lot. Since I have been on it for 3 months I see a big difference. My hair is not falling out in chunks and my mail seem so much stronger. I think I'm going to stick with this company!! Really great stuff.
Love it!!
Love this stuff! I take it everyday and you can definitely notice a difference with my nails; I recently had acrylics taken off my nails back In December so it has taken some time for them to grow out again without breaking and I feel like this stuff has really helped with the breakage I was experiencing. Definitely recommend!!
Saving Grace!
I'm trying really hard to switch over to cleaner products for my overall health. I lost MORE THAN HALF of my hair after having Covid and was desperate for something to help! After reasearching several different brands only to find all sorts of garbage in them or worried they would not work, I found these on the website and ordered right away! After two months of CONSTANT heavy fall out of no regrowth to be seen, once I started taking these, I have TONS of regrowth after one week! ONE WEEK!! I have this fuzzy halo around my entire head of new growth and my hair has FINALLY stopped falling out! I am just so grateful, and knowing that this is a super clean supplement not full of garbage just puts me more at ease knowing that I'm not creating more problems for myself and my health! They are easy to swallow and have no strange lingering aftertaste. I'm a fan for sure!
Healthillie Certified
As a holistic health coach and certified personal trainer, I am passionate about health and will always advocate for the cleanest ingredients. I truly believe my life's work is helping others live a low tox life and be able to truly experience complete wellness.I aim to find and help small and diversely owned businesses and make it easier for you to swap out even the most toxic of products.

✓ Clean Ingredients
✓ Nothing Artificial
✓ Nothing Toxic