Free Shipping
orders $125+ US only
Clean + Low Tox
all in one place
Healthillie Approved
Holistic Health Coach Certified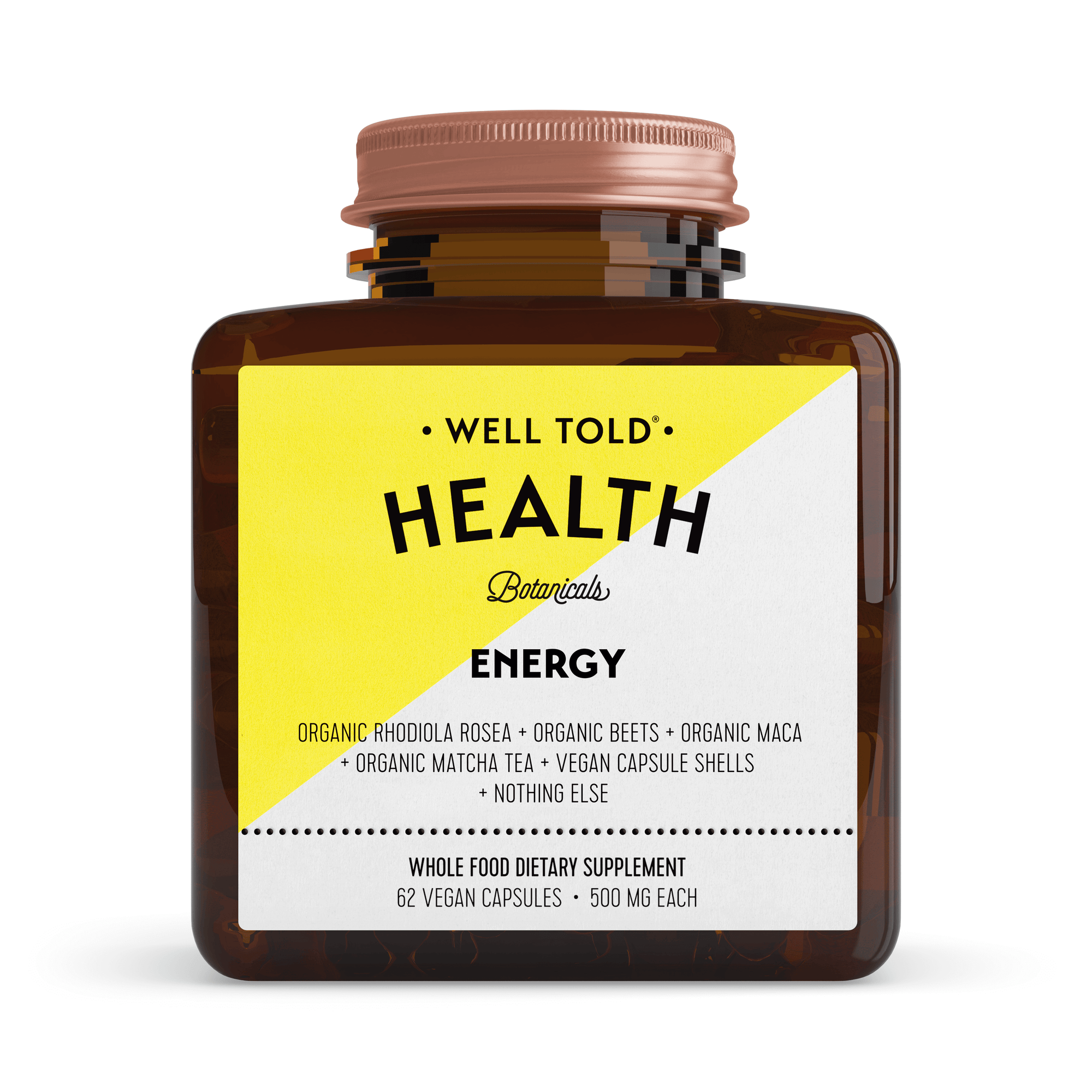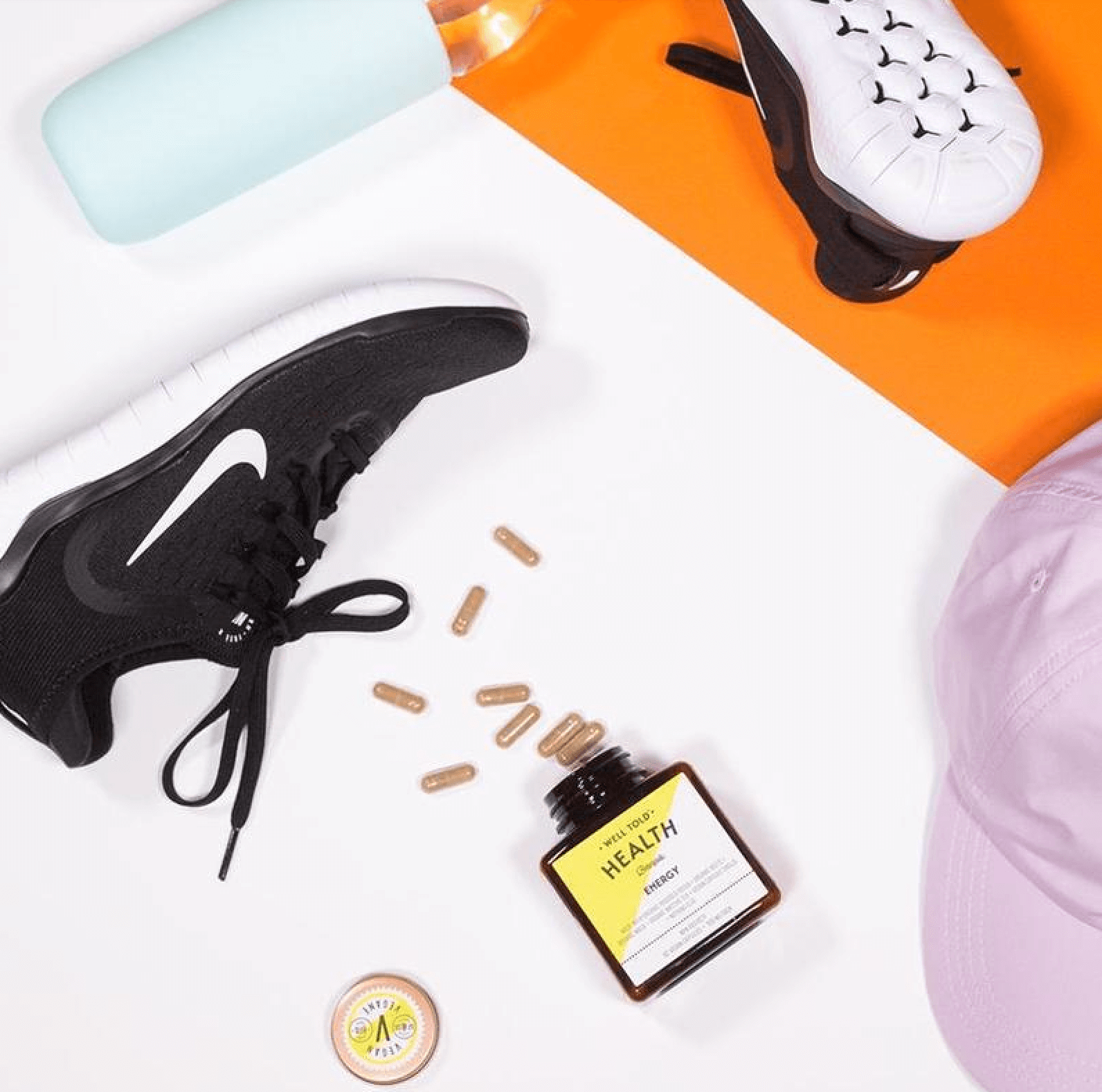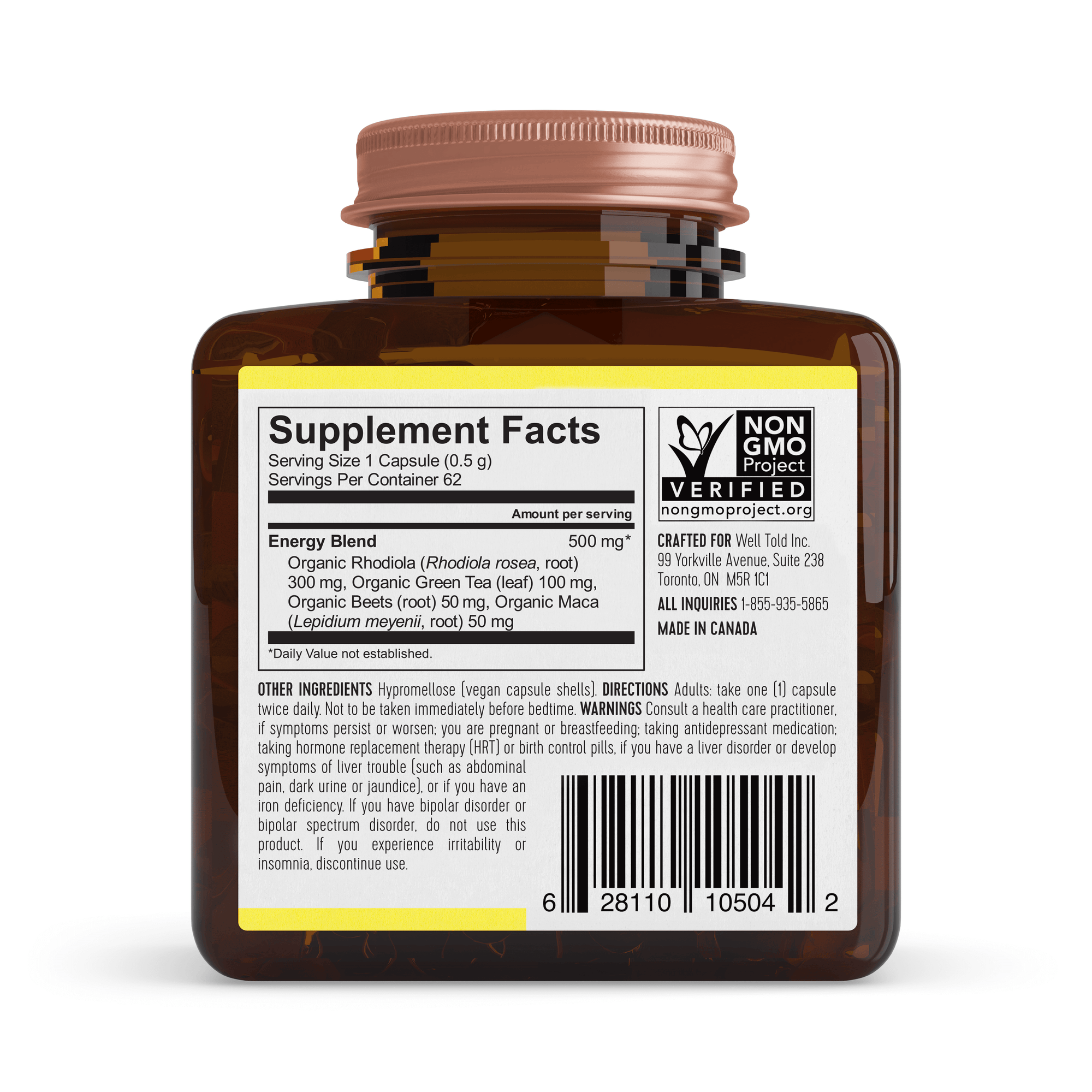 Regular price
Sale price
$22.49
Unit price
per
An adaptogen that increases physical energy and supports mental focus.
Ingredients in each vegan capsule: ORGANIC RHODIOLA ROSEA: Relieves symptoms of stress such as mental fatigue and can support cognitive function, such as mental focus and stamina. ORGANIC MACA: An energy-enhancing root vegetable. ORGANIC MATCHA TEA: Finely grounded tea leaves known to increase energy. ORGANIC BEETS: Shown to improve muscle efficiency and endurance.
WHY TAKE IT:
If you live with ongoing stress that can cause mental fatigue.
If you have a job or task that requires optimal cognitive function.
If you are studying for exams.
If you work out intensely.
Each recyclable bottle contains 62 vegan capsules which when taken daily is a one-month supply (Take 1 capsule twice daily).
Read more
Read less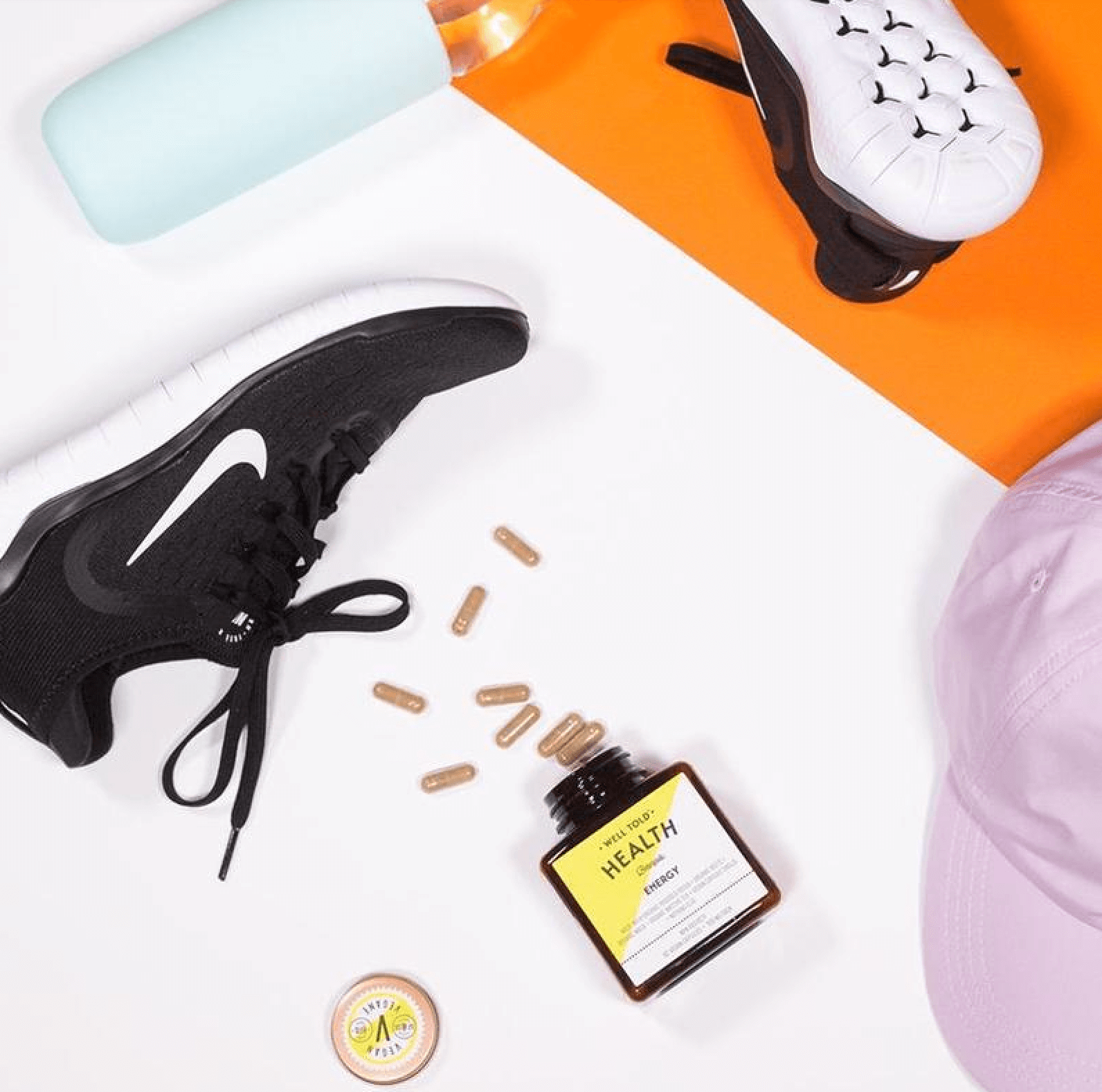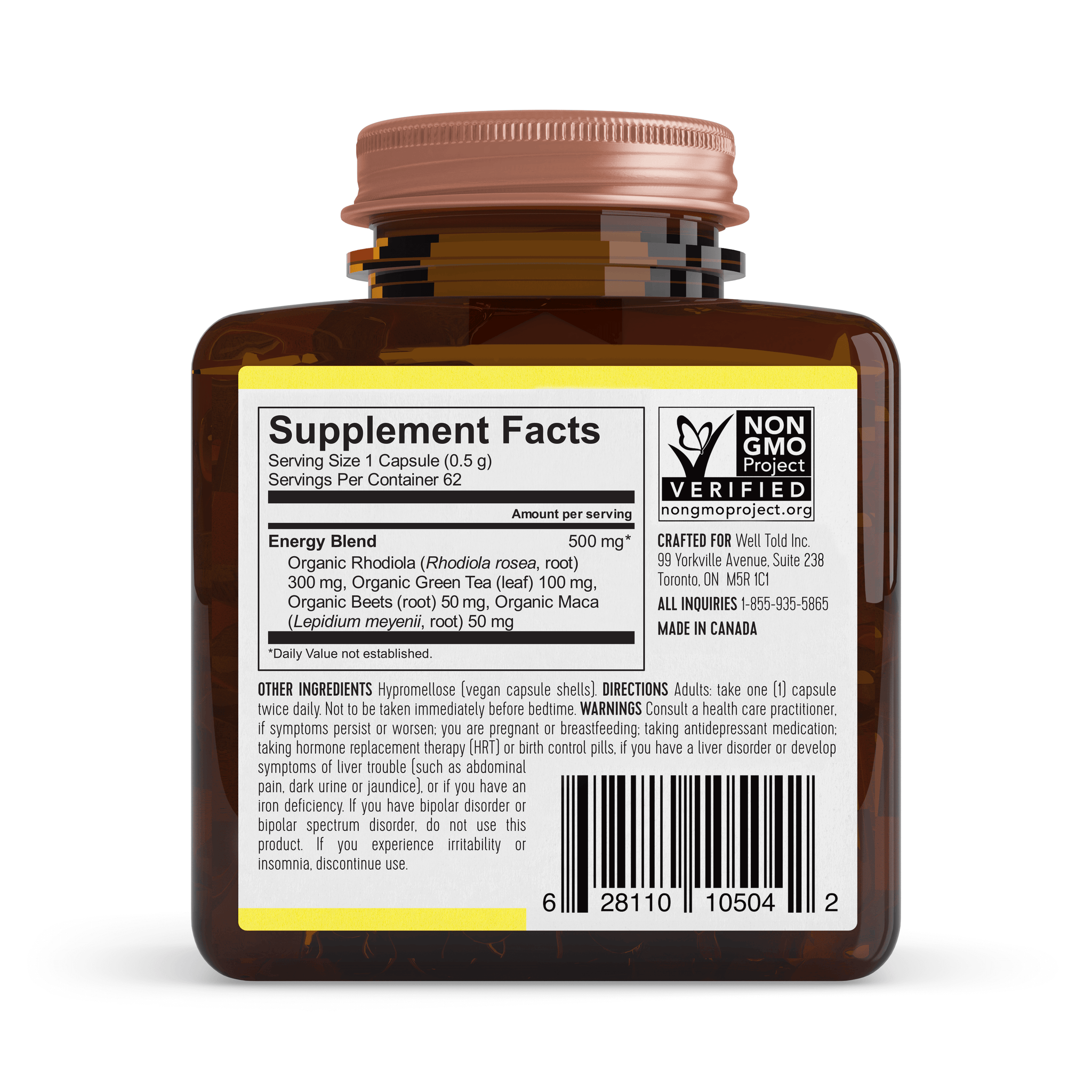 Works moderately
I have been taking this recently and I only feel a moderate difference. It could also be because I'm addicted to coffee and used to drink 3-4 cups a day. Now I am coffee free and this does just enough to perk me up enough but I don't feel like it gives me the full energy boost and mental clarity I feel like I need that coffee used to give me. It's better than nothing however and I plan to keep using it. I'm sure for other people who don't drink as much coffee as me it must work better. I'm just extremely used to coffee. I would still recommend anyone to try this! I will say if it wasn't for this product I probably could not have gotten off of coffee as easily as I was able to. So if you're a coffee addict like me and need to get off of it, try this!
Love the products!
I love being able to trust Illie with lol toxin products it makes me feel better about things that I am consuming on the daily
Energy
Love!! I feel so much more energized during the day when i take this supplement
Love all the products so far! Especially the collagen! My face looks great 🤣
Say goodbye to coffee
These are legit! I hate depending on coffee to get me through my days because I always crash and need another cup. Not anymore! I take one of these in the morning and I have enough energy to get me through my day without adding more caffeine to my system throughout the day. It also does not impact my ability to sleep whatsoever! Bottle says you can take two daily, but I only need one!
Healthillie Certified
As a holistic health coach and personal trainer, I am passionate about health and will always advocate for the cleanest ingredients. I truly believe my life's work is helping others live a low tox life and be able to truly experience complete wellness.I aim to find and help small and diversely owned businesses and make it easier for you to swap out even the most toxic of products.

✓ Clean Ingredients
✓ Nothing Artificial
✓ Nothing Toxic
Follow Me!
Stay up to date with Healthillie and the Live Healthillie fam!